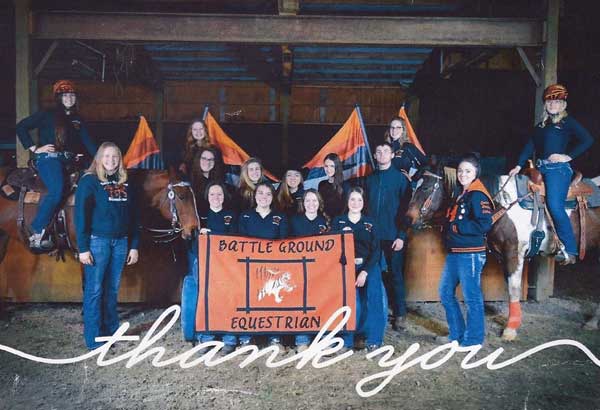 Thank You for your support!
-Battle Ground Equestrian Team
Auction at the Red Barn
BOYD'S AUCTION FOLKS,
Thank's for a great auction.  Quite an organizational feat, much appreciated.
Sincerely Jennifer and Andy
Forest Grove Auction
HI BOYD'S ESTATE CREW,
Mike, Partner with Russell Smith.  We just wanted to say Thanks A Bunch this weekend in Dilly.  We had a good time and got many good deals.  We hope to make your March 19th auction.  Thank you again for your support Fred, we really appreciate it.
Mike, SAFE Components & Equipment
Fortress Mini Storage
Boyd's Auction team is organized, has great customer service skills, and his increased the professionalism of our storage auctions.  We have increased our revenue because he attracts a larger base of customers.  Plus he increases the visibility of our auctions and relieves Fortress mini Storage of the myriad of details that have to be dealt with in  running an auction. Fortress Mini Storage Gives BOYD'S AUCTION & ESTATE SALES CO. our highest recommendation.   Respectfully yours, Tom Miller
LIONS CLUB CHARITY AUCTION
Thank you for giving your time to the lions club Auction. We would not have been able to do this with out you.
Lion Henry
Estate of Ben Hegney
BOYD'S TEAM & ASSOCIATES,
Thank you so much for your preperation, advertising, and final execution of my fathers estate.  My sisters and I are extremely satisfied and will happily give a outstanding Reference.  Their professionalism and quality is immpecable and we would highly recommend them for all or any Auction or related services.
Thank you again Jeff Hegney.
Living Estate Sale of Freda Gipson
Hello, Time to let you all know how much you are appreciated.
You took on a task I could not have handled and made the difficult task just go away. God Bless you all
Love Freda Gipson and Family
I loved seeing you each year at our gala we will definitely miss you when you retire. You have the best sense of humor and style. Thank you for your generosity to The Veterans Assistant Center and the Veterans community as a whole.
-Anonymous
Dear Boyds Auctions,
I have been wanting to send this to you for the longest time! Praise the Lord Alex got his lung transplant. Everything since has been a whorlwind and I wanted to thank you from the bottom of my heart for all that you have done. My children were completely captivated by all of your kindness, they felt so special. Thank you! Alex is doing great and we can't wait to get home. Thank you, again you are truly amazing.
God Bless,
Mandy and Family
Estate of Barbara Fox's Mother
TO THE BOYD'S AUCTION TEAM,
I met Fred Boyd of Boyd's Auctions in May of 2009. I was in need of a trusting person to handle my mothers estate in Ballard, WA, which is near Seattle. This included real estate, theatre pipe organ, and an electric organ.
Mr. Boyd explained upfront the condition of which he would handle the auction. Then Mr. Boyd researched the organs by contacting several people and organ organizations across the country to find the value of the organs. Then he handled comparisions of value of the real estate to make sure we were setting the price accordingly. He drove from Vancouver to Seattle for set up, auction day, and helping the organ buyers load their merchandise. Then he came back for the closing of the realestate, picked up the check, and hand delivered to me in Morton, WA.
I trusted Fred from the start. He is fair, reasonable, and a man of integerity. He has a positive attitude and will do what ever it takes to get the job done with the highest of quality. Fred has a good sense of humor and a great repport with people. He is also a Great Story Teller.
I would be happy to recommend Boyd's Auction and Estate Sales Company to anyone.
Sincerely,
Barbara Fox
Thank you so much for all the work you and the crew did for our auction. What a load off our shoulders to have it all done - we could not have cleared out the shops as fast as you did. The house is sold mom and dad bought a new car they're so happy.
Thanks again,
The Stories
Dear Fred and Crew,
I would like to take a moment to say thank you all so much. You've all given me a wonderful first time exprience with a business of your arena, estate sales. The way you released me from the weight I'd been feeling having to deal with empting my house of all its furnishings was a blessing. The care you took to make sure that everythng was done to my liking and comfort, my husband was also pleased how easy you and your team made things for me. He was very surprised with the day to day progress reports. His biggest surprise was the itemized list of everything sold with the prices that were paid. Thank you all again. If any of your future prospects need to hear from a previous client feel free to give them my name and number.
Sincerely,
Y. Adkins-Maerk
Thank you! You've been a great big help, and you deserve a great big thank you!
-Yacolt Boy Scouts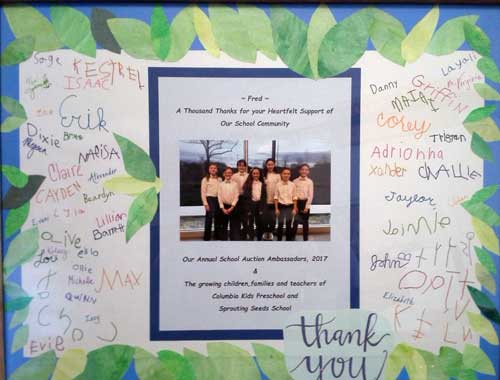 With kind regards and a thousand thanks from all of us,
Sprouting Seeds and Columbia Kids Preschool
Thank you!
-Battle Ground Little League
"Oh Lordie! Ain't they a fine kettle of fish!" My southern grandmother always said that when problems got solved or fixed.
Thank you for so many things. This was a difficult transition for an old woman who has been around long enough. Thank God for both of you, and I mean that sincerely. I had no idea how to just get through all of this, and you Tessa and Dave, took all that worry off my shoulders. I feel so blessed to have met you. You and your team have been a huge blessing to me. Thank you so much for everything.
Also, I would like to thank Fred for going above and beyond his duties. What a kind human being.
-Lynch